Introduction
The COM Express® specification Revision 2.0 has been available for several years as an initiative to refresh the specification's support of new technologies and interfaces as well as deal with legacy interface obsolescence issues.
The COM Express® specification Rev. 2.0 has key features to support abundant high bandwidth interfaces digital display interfaces, such as DisplayPort and High-Definition Multimedia Interface (HDMI), as well as USB 3.0 and additional PCI Express interfaces. In addition to the existing Types 1 through 5, the COM Express® specification Rev. 2.0 also added in the new Type 6 and Type 10 for the more extensive technology upgrades.
COM Express® Type 10 Module Size
The COM Express® Type 10 is Mini size – 84mm x 55mm. Figure 1 shows the dimension of the module which includes 4 mounting holes.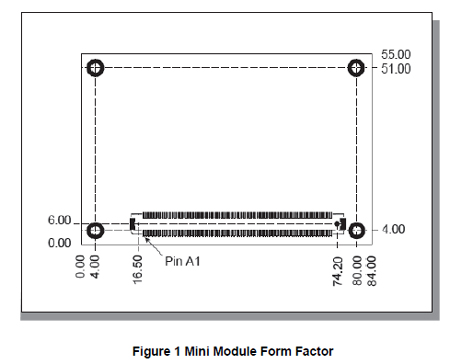 New Technology Interfaces on COM Express® Type 10
The most important technology that the COM Express® Rev. 2.0 supports on the new pin-out Type 10 module are the digital display interfaces such as DisplayPort and HDMI, as well as USB 3.0 ports.
Digital Display Interfaces
To support the evolution of display interface technologies, COM Express® Rev. 2.0 added support for HDMI and DisplayPort interfaces. HDMI provides an audio/video interface that can carry TV and PC video signals, including HD video, along with an accompanying digital audio stream. DisplayPort, standardized by the Video Electronics Standards Association, provides a royalty-free interface between a computer and monitor. Unlike earlier digital display interfaces, DisplayPort is capable of driving both external displays and internal display panels, which are each important to COM Express applications.
USB 3.0
COM Express Rev. 1.0 supported eight USB 2.0 host ports, each of which was composed of a single differential signal pair and had transfer speeds up to 480Mbps. The USB 3.0 specification expands upon USB capabilities and adds the SuperSpeed capability, extending transfer speeds up to 4.8Gbps.
COM Express® Type 10 Interface Signals
Axiomtek Type 10 Modules apply to the mini form factor:
Module Type 10 supports a single connector with two rows of pins (220 pins total)
Connector placement and most mounting holes have transparency between form factors. The features among the Module Type 10 are summarized in Table 2-1.

COM Express® Type 10 required and optional features are summarized in Table 2-2.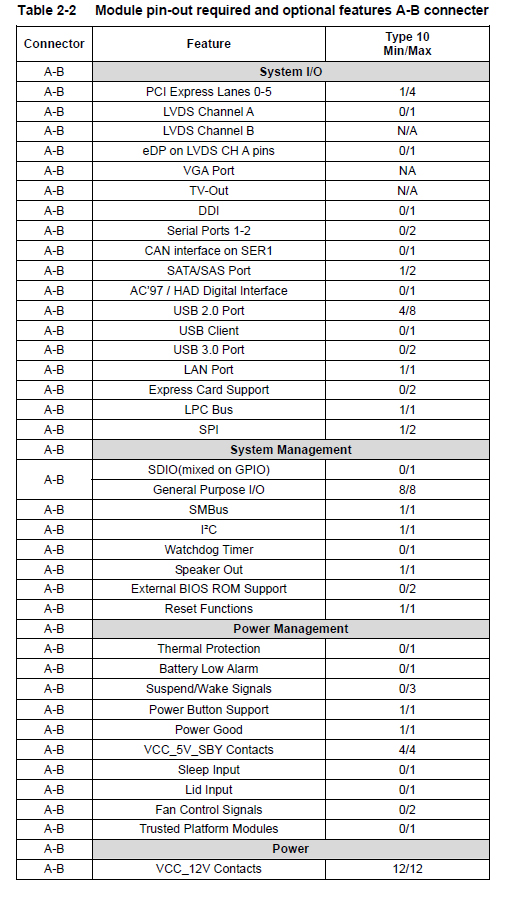 Axiomtek COM Express® Type 10 Module
Following the COM Express® specification, Axiomtek released two COM Express® Type 10 mini modules – the CEM300 and CEM840. The COM Express® Type 10 module CEM300 features the latest generation Intel® Pentium® and Celeron® quad/dual-core (codename: Braswell) N3700/N3150/N3050 SoC processors. It comes with up to 8GB DDR3L memory onboard, 4~6 watts low power consumption, and provides improved graphics and computing performance. Integrated with Intel® Gen 8 graphics, the Axiomtek CEM300 provides excellent graphic performance including support for DirectX11.1, OpenGL 4.2 and ensures high-quality user experience with the latest 3D features and resolution up to 4k (3840 x 2160 @ 30 Hz). The rugged pocket-size CPU module features rich I/O interfaces, including four PCI Express lanes, two SATA-300, one Gigabit Ethernet, one HD audio link, and four digital I/O channels. With wide range voltage power input 4.75V - 20V, the Axiomtek CEM300 is an ultra mini option for users searching for a semi-custom and application-specific solution for harsh industrial environments.
Another COM Express® Type 10 Module CEM846 features Intel® Atom™ processors E3845/E3827/E3815 (codename: Bay Trail SoC). It can carry up to 4GB DDR3L onboard memory and support a wide operating temperature range of -40°C to +85°C (-40°F to +185°F) for industrial applications. The Axiomtek CEM840 is equipped with various I/O interfaces, including one LPC, four PCIe x1, two SATA-300, one Gigabyte Ethernet supporting Wake-on-LAN, eight USB 2.0, one USB 3.0, HD audio, four digital I/O channels, one LVDS (18/24-bit single channel), and one DDI port. To enhance the reliability and stability of the board, hardware monitoring and Watchdog Timer are also supported.
Technical Support by Axiomtek
The Axiomtek design guide for COM Express® carrier boards serves as a general guide. The design guide focuses on maximum flexibility to accommodate a range of COM Express® Modules. The Axiomtek COM Express® design guide explores the requirements of the COM Express® specification and provides recommendations on how to design COM Express® Baseboards to support the features of Axiomtek's COM Express® Modules.
The carrier board design guide provides schematic examples and information on standard I/O interfaces, connections, and routing. The guide also offers ideas to maximize the design potential of COM Express® carrier boards to accommodate all Axiomtek COM Express® Modules.
The COM Express® Module user guides provide specifications and features for an individual COM Express® Module. You can find the user's manuals, design guides, mechanical drawings and other technical documents for COM Express® Modules on the Axiomtek Technical Portal (ATP) website.
Axiomtek's ATP website: http://atp.axiomtek.com.tw/atp/
Axiomtek's global website: www.axiomtek.com
About Axiomtek Co., Ltd.
Axiomtek Co. Ltd. is one of the world's leading designers/manufacturers of PC-based industrial computer products. From our roots as a turnkey systems integrator specializing in data acquisition and control systems, Axiomtek has mirrored the PC evolution in various industries by shifting our focus toward the design and manufacture of PC-based industrial automation solutions.
Axiomtek Co., Ltd. established in 1990, has more than 60 distributor partners globally. Axiomtek offers Industrial PCs (IPC), Single Board Computers and System on Modules (slot CPU card, small form factor embedded boards & SoM), Fanless & Rugged Embedded System (eBOX, tBOX and rBOX), Industrial Firewall Platform, Industrial IoT Gateway Solution, EtherCAT Master Controller, Touch Panel Computers (TPC), Medical PCs (MPC), Human Machine Interface (HMI), Digital Signage and Players (DS), Industrial Network and Network Appliances (NA).
As an associate member of the Intel® Internet of Things Solutions Alliance, Axiomtek continuously develops and delivers cutting edge solutions based on the latest Intel® platforms.