Abstract
In current automation industry, the main stream products in real-time industry automation control are using hardware-based motion card and PLC (Programming Logic Controller). After popularization of high performance x86 PC, the traditional configuration will be replaced by soft-motion based on Ethernet protocols gradually because of its cost effective, powerful and flexible communication solution.
It is widely believed that EtherCAT will become the best solution in real time automation in the future. EtherCAT is an Ethernet-based fieldbus system, invented by Beckhoff Automation. The protocol is suitable for both hard and soft real-time requirements in automation technology. The goal during development of EtherCAT was to apply Ethernet for automation applications requiring short data update times with low communication jitter and reduced hardware costs. Axiomtek's IPC and eBOX approved by EtherCAT solution have been released to markets. These products will help our customers speed up development, deployment and expansion of smart automation and greatly reduces the cost of ownership in IoT solutions.
Industry Trend
Many new projects in industrial automation are starting with real-time Ethernet requirements to replace field buses. EtherCAT, Profinet and other Ethernet based protocols are becoming de facto standards for industrial communication. All the industries have the same requirements for their next-general equipment or devices. They must deliver better throughput and reduce their costs. Real-time Ethernet is a key factor that helps partners and customers in various domains to achieve these goals.
The following are the advantages that EtherCAT solution provides:
Open x86/x64 PC base with Real Time OS

Serial control
* Real time (scan 100 servo motor < 100 µs)
* Easy wiring
* Anti-interference
* Remote control
* Low cost because of the use of standard Ethernet components

Best for high-speed motion control devices

Used by semiconductor industry, PCB devices, measurement, and medical treatment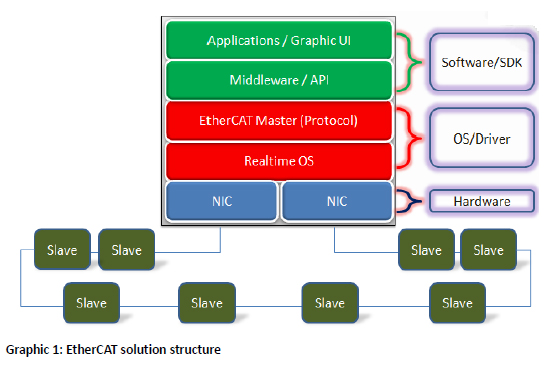 Below is the application environment for IPC914-213-FL and ITRI PCI motion card. This is the first generation product in one of our customers now and it's running smoothly and authentically.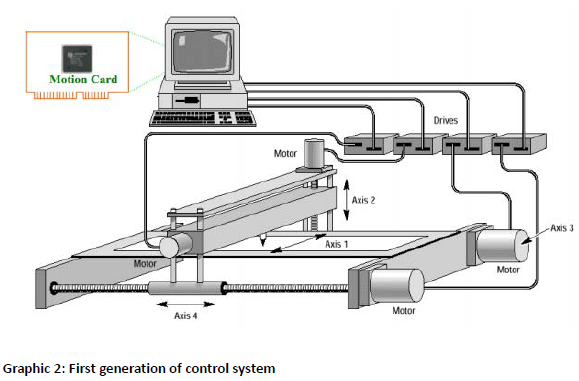 The IPC932-230-FL-ECM and EtherCAT solutions (soft-motion) are the second generation product for robotic system. The resource conflicted and driver issue on motion card would be avoided effectively after adopting EtherCAT solution.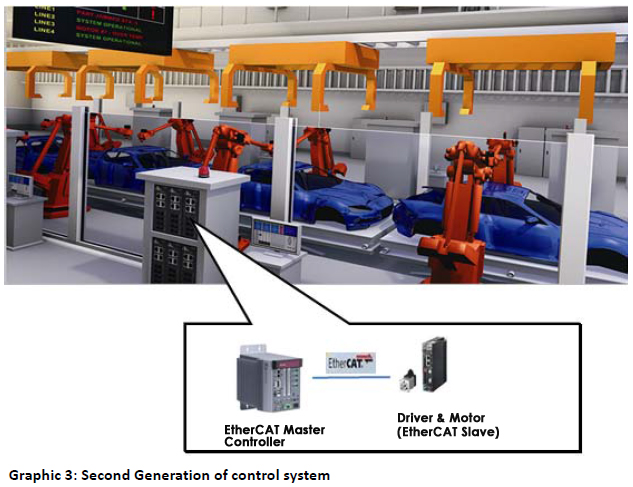 Comparing the first generation of a traditional control system with the second generation of an EtherCAT based control system, the difference and benefits are very obvious. Having the communication and safety bus combined on inexpensive Ethernet cabling streamlines complex and expensive wiring harnesses. The simplified cables alone translate into significant savings in the bill of materials.
Besides, the cabling savings, ease of installation and maintenance also provide compelling reasons why Industrial Automation customers are moving so quickly to Ethernet based communications.
It has taken a while but Industrial Automation is finally able to fully leverage Ethernet as a cost effective, flexible, and powerful communications solution.
System Design Features
IPC932-230-FL-ECM
The IPC932-230-FL-ECM open real-time EtherCAT master controller features high speed, accuracy, simplified cabling, and distributed time synchronization. The fanless embedded computer IPC932-230-FL-ECM has been verified for interoperability with IntervalZero EtherCAT Master which is based on Acontis EtherCAT Master Stack and IntervalZero RTX real-time extension module. The high quality industrial computer supports LGA1150 socket for 4th generation Intel® Core™ i7/i5/i3 (Haswell/Haswell Refresh) and Celeron® processor with the Intel® Q87 Express chipset. Equipped with various front-facing I/O connectors, the advanced EtherCAT master controller features compact construction with fanless design and wide operating temperature range at -10°C to 50°C for withstanding harsh operating conditions. The IPC932-230-FL-ECM is an ideal solution for industrial motion control, factory automation, multi-task machine control and internet of things applications.
eBOX560-880-FL-ECM
The Axiomtek eBOX560-880-FL-ECM EtherCAT controller is verified with IntervalZero EtherCAT Master middleware KingStar which is based on Acontis EtherCAT Master Stack and IntervalZero realtime extension RTX. With well-known Acontis EC-Master, it not only supports CoE, EoE, FoE and SoE enabling seamless integration with servo drives, but also offers Distributed Clocks function support for synchronization of all slave devices. With IntervalZero Windows real-time extension RTX that through a separate real-time scheduler transforms Windows 7 the general-purpose operating system into a fully functional RTOS that runs on multicore hardware, delivering deterministic time control to allow Master controller and Slave device communicating cycle time of 250 μs.