Inventing Key Smart Factory Technologies to Accelerate Industry 4.0
One of the biggest challenges of smart manufacturing and Industry 4.0 is the fact that more than 85 percent of existing machines are not connected to the Internet, with many of them lacking even basic capabilities. To simplify network deployment for smart factories, Axiomtek has introduced electromechanical integration and communication technologies into traditional equipment to create an automated data acquisition system. The data acquisition system will employ non-intrusive techniques to extract production data directly from old factory machines and then transform the acquired data into insightful information to be further used for optimizing operations, such as improving production efficiency and reducing manufacturing costs. By utilizing non-intrusive data extraction technology to break through the limitations of legacy equipment inaccessible via the Internet, enterprises will be able to replicate the basic structure of the "smart factory" under the current equipment and thus save construction and labor costs.
Challenges faced by users
Connecting the unconnected
Legacy equipment doesn't have a lot of connectivity options.

Upgrading legacy equipment is too expensive.

Some legacy equipment has phased out.
Data collection difficulties
Different equipment comes with different protocol and API; the log is also all different formats.

The integration of data occurrences difficult
Data Acquisition Solution - Axiomtek's IPS810-853-FL Non-intrusive Data Extractor
Non-intrusive monitoring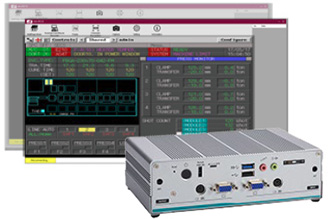 The traditional equipment is built on a "single-station" structure design, meaning not only the equipment itself, but its operating system, hardware peripherals, and even the execution mechanism of the controller are mostly incompatible with modern industrial control networking devices. Axiomtek's IPS810-853-FL provides solutions allowing IT and OT staffs to extract necessary data from legacy equipment then share information to a data center in real time, without having to alter the existing hardware structure.
AX-RCS software built-in
The IPS810-853-FL is not a pure hardware platform; the system combines AX-RCS data acquisition software as a total solution. Through the hardware and software integration, users can easy to deploy their non-intrusive data extraction solution with their corresponding legacy machines. No matter your operating systems or font formats, the AX-RCS with optical character recognition (OCR) and deep learning technologies can ensure that characters are recognized accurately. Besides, the AX-RCS provides unique functions to overcome bottlenecks from legacy machines, including multi-pages, keyboard/mouse control record and hotkey setting, etc. The AX-RCS has a friendly UI design that operators can change the configuration settings easy to increase production efficiency. IT staffs also can depend on the data and log files that generate from the AX-RCS to build up their own database and create an analysis report.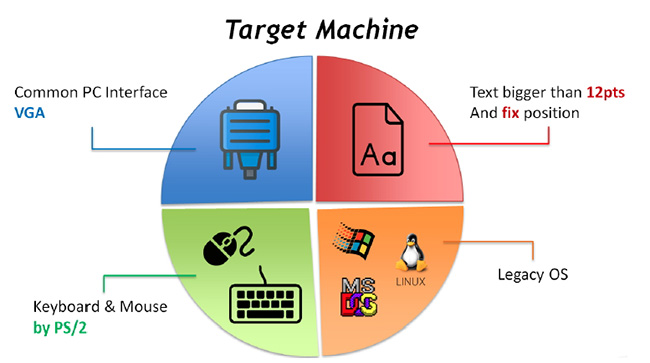 Internet of Things (IoT) management
Implementation of IoT technologies is a critical building block of a "smart factory". The industrial IoT gateway functions provided by IPS810-853-FL has the networking capability, allowing users to take full advantage of IoT by transferring data on the equipment side to an IoT architecture system over wired or wireless networks. On the "smart factory" side, users can optimize the production parameters and save manpower and raw materials. In addition, users also can execute remote management functionalities using Axiomtek's cloud service solution – Agent MaaS Suite (AMS).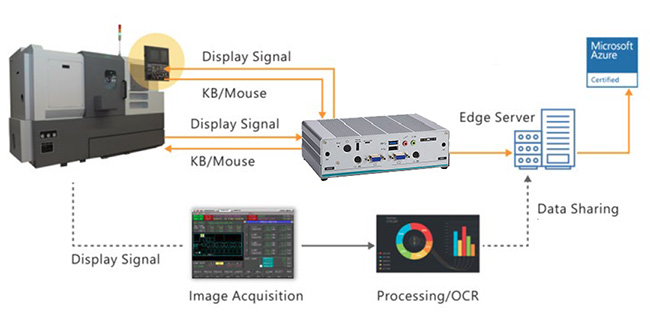 The advantages of non-intrusive data extractor
Improves management efficiency - Reduce operator and engineer access to the lab

Improves the working environment - Increase the ratio of people to tools and cycle time

Production optimization - Increases automation efficiency with less manpower

User-friendly interface - Easy to set up and remotely operable.

Urgent notice - Notifications of emergencies or unusual events with rapid response

Standalone hardware - will not occupy any device resources

Enhanced networking capabilities - Enhance network connectivity for legacy devices